Meet the Special Guests of 2016!
This year we have some wonderful first time special guests and the return of an old favorite!
Ray "Teutonic Overlord" Rigel
Event Coordinator Catalyst Demo Team and Shadowrun Missions Developer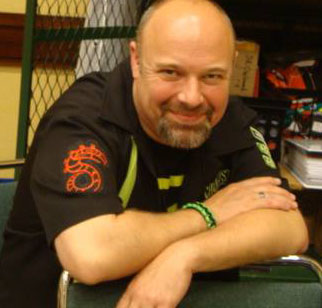 I've been playing or GMing RPGs since the mid 1980s. A trip to a local book store back in 1989 changed my life when I discovered the Shadowrun Sourcebook sitting on a shelf and purchased it. Since then, it has been my game of choice (read: addiction); whether living in Germany, the South, or the frigid North (read: North Dakota).
I discovered this awesome team of GMs running Shadowrun back in 2007 and joined them at GenCon, then Origins the following year. I ran Shadowrun at conventions and local game stores with the team until 2012, when I was asked to start coordinating the RPG team at both those conventions and given a fancy title of Lead RPGs Agent. In late 2014, I became Co-Coordinator of the Catalyst Demo Team (CDT), responsible for the RPG side of the team and assisting with even more conventions. July 2015, I became the Event Coordinator for this awesome team.
In addition to managing the CDT, it is my honor to be the Shadowrun Missions Developer. I wrote a few titles for the SRM/CMP lines (such as SRM 04-06 Hard Target, CMP 2012-02 Five Minutes to Midnight, CMP 2013-02 Berlin Waltz) and I co-authored the Boundless Mercy CMP series.
As Event Coordinator my goal is to make the Catalyst Demo Team a program of choice for GMs; one in which they can have fun, grow, and feel as if they are part of an extended family. As Missions Developer, my goal is to provide the Shadowrun fans fun and exciting adventures they want to talk about when they reminisce about great roleplaying memories.
If you need to contact me, select which hat you think I'm wearing and send it my way. I'll respond either way!
rigel@catalystgamelabs.com
Jolly Blackburn
Creator and Editor of "The Knights of the Dinner Table; HackMasters of EverKnight"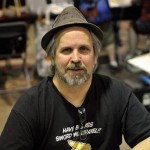 Jolly Blackburn majored in anthropology, history, and classical cultures in college. Blackburn later joined the Army, and launched both the gaming magazine Shadis and his company Alderac Entertainment Group (named after his AD&D campaign world) while still in the Army. The original Shadis was a black-and-white digest featured gaming articles largely written by Blackburn, and each issue featured several pieces of fiction collectively called the "Alderac Anthonology" which detailed Blackburn's world of Alderac (one of Alderac's moons was Shadis, from which the magazine borrowed its name). He conceived of having a comic strip that became Knights of the Dinner Table (KoDT) in 1990 as part of Shadis: "I had been a great fan of J.D. Webster's Finieous Fingers from the early Dragon Magazine, and I wanted something similar. Unfortunately, I couldn't find anyone willing to do a strip. Finally I sat down and drew out a very crude cartoon showing a gamemaster and a player sitting around a table arguing over a rules call." Blackburn based the KoDT characters on friends and fellow players, and B.A. Felton on himself. Blackburn conceived the cartoon as just filler material, but when he replaced it with more professional strips in one issue of Shadis there was an outcry from fans.
Blackburn was a sergeant in the army during Operation: Desert Storm, and when he was serving in the Middle East the magazine was not published for a year and a half, but Blackburn got back into the publishing business when he returned in 1992. Alderac published three issues of a KoDT comic book in 1994-1995: "I soon became aware that the demand for KoDT was much higher than I had ever realized. That got me thinking about doing it on a monthly schedule." Blackburn left Alderac in 1995 because he felt that he and his partners John Zinser and David Seay were looking for success in the CCG industry while he wanted to keep the company fun and small and focus on KoDT. He formed a new company called KODT Enteractive Facktory to publish KoDT monthly.
While working at Shadis, Blackburn had made friends with employees of Kenzer & Company: "We discovered that we had so much in common, I decided to come aboard and throw my intellectual properties in the kitty." Blackburn joined Kenzer in December 1996, and Kenzer published his comic book monthly beginning with a reprint of issue #4. The KoDT comic strip moved to Dragon in issue #226, becoming very popular.
"Over the years I've often wondered just what it is that causes all the fuss… I'm the first to look at the typical strip and say, 'It's not all that!'" In 2001, Kenzer published the HackMaster role-playing game, which was based on the fictional game played by the characters in the Knights of the Dinner Table comic strip.
Jolly's 'Cries from the Attic' KoDT web page
Fredd Gorham
Nuke-Con Special Guest Extraordinaire!
Those of you who have been to Nuke-Con before probably need no introduction to Fredd. He is a long-time booster of this convention; it is his genius behind the Nuke-Con cover and t-shirt art, and he always has a kind word to say about us.
In his 25+ years as a freelance artist, Fredd's work has appeared in publications from a wide variety of comics and gaming companies, including Marvel, DC Comics, Steve Jackson Games, Caliber Press, White Wolf, Hero Games, Silver Gryphon, Viceroy Cards, Breygent and Albino Dragon Games, among others. He has recently launched his own business, Steel Angel Studios, through which he sells his art work and services.
For the past decade, Fredd has hosted The Artist Jam, a once-a month artist gathering held at Krypton Comics on the 3rd Saturday of every month from noon till 10pm. It is open to everyone and is totally free. Fredd is a on the educational board of the Joslyn Art Museum, doing workshops on comics, drawing and visual storytelling for both kids and adults.
In his spare time he pesters his wife, Linda, to no end.
Fredd's Deviant Art Account
Fredd Gorham's Studio